Ages & Stages: Kids & Oral Hygiene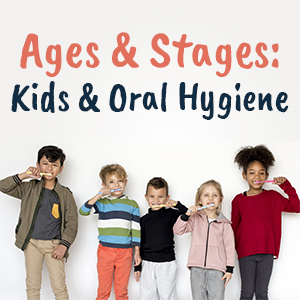 Very few opinions are universally shared, but we're willing to bet on one: the best dental checkups are the ones where Dr. Marcovici, Dr. Rhule, or Dr. Tang says the beautiful words: "No cavities!" At-home oral hygiene routines are the most effective tool people of any age have to keep their teeth healthy, but when it comes to pediatric dentistry, it also helps for caregivers to remember what stages children are in to encourage age-appropriate oral hygiene routines at home.
Kids under 6 years old have mouths that are still growing and changing, and they probably want to brush themselves ("I do it!") whether they have the fine motor skills to reach all their teeth or not. Let them brush on their own and encourage their efforts but lend a hand when needed.

When kids reach the "tween" years of 7 through 12, they know how to take care of their teeth—they just may not want to be bothered. Keep emphasizing the health benefits of diligent dental self-care, and as their sense of personal responsibility and accountability for their own health choices continues to evolve, we promise your efforts will start to sink in—even if it doesn't seem like that now!

The teenage years are crucial ones for dental health. Cavity formation is at its highest in very young kids, but those rates spike again in the teen years—and the daily oral care practices of teenagers are likely to be the ones they take with them into adult life.
If you want to know more about kids and oral hygiene or you'd like to schedule an appointment for a visit with Inertia Dental, don't hesitate to give us a call!
The content of this blog is not intended to be a substitute for professional medical advice, diagnosis, or treatment. Always seek the advice of qualified health providers with questions you may have regarding medical conditions.